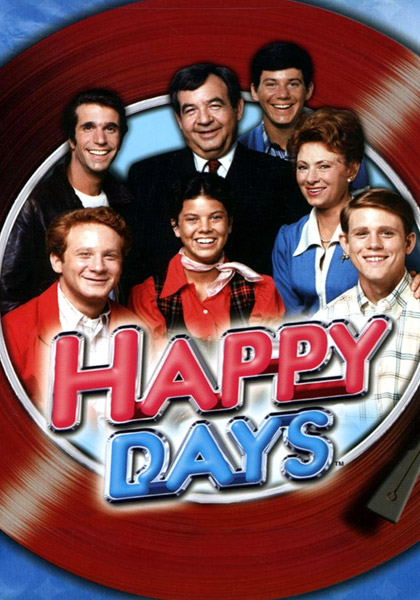 'SUNDAY MONDAY HAPPY DAY'S"
On this date 1974 we all started saying "AYE" "SIT ON IT" 'I FOUND MY THRILL ON BLUEBERRY HILL"
Because the sitcom "Happy days" debuted on this day.  Boy do I feel old!
When I read this this morning I started remembering the hours I have spent watching The Cunningham's, The Fonz, Ralph Malph and Potsie.
I think the show found its real impact with the chemistry between the "Fonz" and Richie.
But I wanted you to remember the impact on POP CULTURE the show had.
Let's talk spin offs
Lavern and Shirley
Mork and Mindy
The Fonz and the Happy Days cartoon
And who could forget Joanie Love Chachi!
There were comic books and at least two musical stage shows.
Besides all that think of the movies and TV shows that the stars of Happy Days were a part of.  Here is a partial list
Ron Howard:
The Music man Movie, The Andy Griffith show, American Graffiti and More American Graffiti
As a director another Partial list
Night shift (with Henry Winkler)
Splash
Cocoon
Gung Ho
Willow
Backdraft
Apollo 13
A beautiful Mind
The Da Vinci Code
A beautiful mind
Solo: a Star wars Story
Then Henry Winkler always THE FONZ but also a great actor and director.
The one and only –he was a Pro Wrestler (who would have thunk it)
Hero's
The Water boy
Here comes the BOOM
The Lords of Flatbush
And more TV shows than space than I have
And even Potsie, Anson Williams has had great success as a director of
A Smokey Mt. Christmas
Memories of me
Cop and a Half
As a Producer
MacGyver
Sightings
Deadman's Gun
The list of credits of actors and guest stars of this little TV show is as impressive as any you can think of.
And happy days even gave us this term
'JUMP THE SHARK"
Oh how I long for those Happy Days
 Utah has a champ and foods we hate

Stupid news
Laff lines