It is not even the end of August and I am already reading stories and hearing people talk about fall.  One reason is PUMPIN SPICE!
Dunkin Donuts started to sell pumpkin spice products this week Starbucks will next week and if you haven't heard there is PUMPKIN SPICE SPAM!!!!!!!!!!!!!!!!!!!!!!!!!!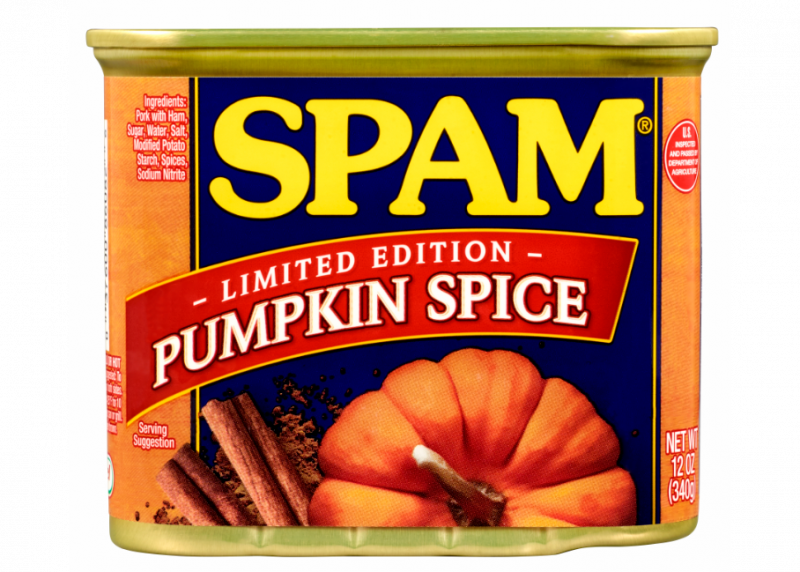 As much as I love Spam I think I will pass on that.
Baseball is winding down. Football is on the field.  Schools are education and the temperature is temperaturing (if that is a word) Tuesday it was 95 and this morning at 5am it was 47 degrees with a high today of 85.
So after a hot summer why are we looking forward to fall so much?   A new survey asked people what they're excited about for the change to fall.  And here are the top 10 answers . . .
The change in the weather, 44%. (I love the KOOL-er air.
Football coming back, 37%.
Pumpkin spice foods and drinks, 37%. (If we have pumpkin spice Spam can pumpkin spice bacon be fall behind)
The leaves changing colors, 35%. (NUFF SAID)
Lower electric bills, 29%. (Paying less, I LOVE FALL)
Going apple picking, 23%.
Drinking warm drinks, 22%.
Lots of TV shows coming back, 20%. (The final season of ARROW for me)
Thanksgiving, 20%. (Another food related to fall and it is a Holiday and a day off, Bring on the Turkey)
Wearing sweaters and baggier clothes, 19%. (You need the baggy clothing to compensate for all the Pumpkin spice cookies)
Today on the morning show:  Pumpkin Spice and Veggies
Stupid news: Betting with a cop and Gary
Laff lines